Stakeholder Centered TEAM Coaching
for Higher Team Performance and Better Company Results



In the business context of considerable change and uncertainty, it is crucial to motivate and manage teams for success. Stakeholder Centered TEAM Coaching
enables a team to function as more than a sum of its parts.
High-performing teams don't happen by accident. There are no quick fixes.
The Stakeholder Centered TEAM Coaching program is based on years of experience working with successful leaders who were willing to do what it takes to become
even better leaders.
TEAM coaching is used to address one or more organizational and/or team needs :
A high-functioning team wants to get even better

Existing teams are exhibiting dysfunctional behavior - moderate or severe

A new team is being formed

A project team has organization-critical goals and deadlines

The clients is looking for a cost- and time-efficient way to provide coaching to several individuals
Stakeholder Centered TEAM coaching : how it works
To facilitate the team's progress to a high-performing team, we go through the following process :
Phase 1 : 2-day workshop
We start the program with a 2-day workshop.

During Day 1, I introduce the TEAM coaching process and create together with the team members a very powerful aspirational leadership model, the team members
guide each other with real life illustrations on improving their professional leadership style and team role with the objective to become a more valuable leader while
supporting the development of the team.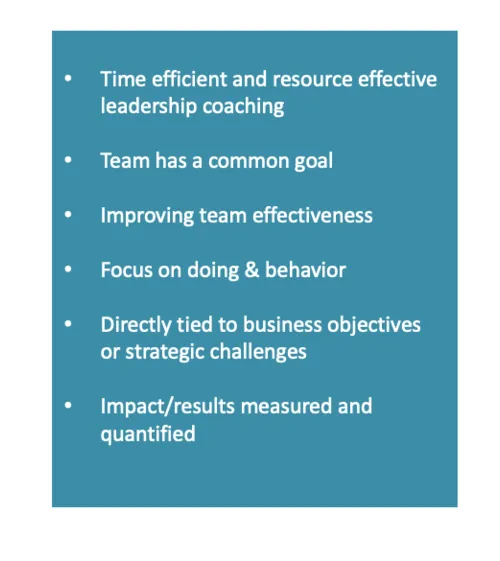 At the end of Day 1, the teams selects one or two team growth areas and each member
aligns their own leadership growth areas to the team focus.
At Day 2, we mobilize change by involving team stakeholders and by starting peer coaching.
Team members and their peers construct a monthly action plan for improvement in the
targeted leadership growth areas. Finally leaders will become familiar with the seven
coaching skills required to accelerate leadership growth.
Phase 2 : Monthly TEAM Coaching sessions
The monthly TEAM coaching sessions keep the momentum going in the leadership growth
and change process. At the same time the team members learn from each other and share
their best practices that are effective in their specific business and organizational culture
environments.
During the monthly sessions we will focus on the Monthly Action Plan (MAP) to implement
team and leadership growth and on leadership and team skills development.
Phase 3 : Leadership Growth Progress Review
The adage goes : You can only manage what you can measure. Leadership Growth Progress Review provides the leaders and teams with valuable and genuine
feedback from the stakeholders on actual progress in leadership and team effectiveness.
Stakeholder Centered TEAM coaching delivery model
Depending on the development needs of the team, you can choose between a 4, 6 or 8 month program.